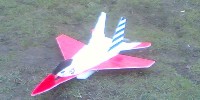 Above mine and a friends RC Powers Mig 29's. Partially simulates the vectored thrust of the full size by having the 2212/06 brushless motor mounted on the elevator, this make it really aerobatic, manouverable and fun to fly. unfortunately mine was in grey depron dosn't seem to have quite the same strength as the white and was untrimable until extra strengthening was added. The grey one has now crashed, i am currently building a replacment using white depron.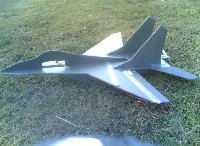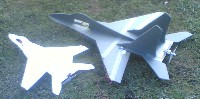 Left is a scaled down mig 29 powered by a hacker A10 12s motor this flew well except the speed controller would not run the motor properly and it kept stopping. The plane is awaiting a replacment speed controller. Interestingly both sizes use a 6*4 propellor.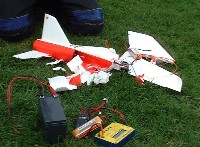 Left is a friends F20 tiger shark powered by an electric ducted fan and lipo batteries it was capable of 120 mph. sadly it crashed shortly after this picture was taken, see right.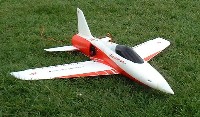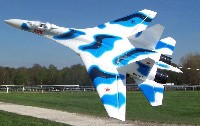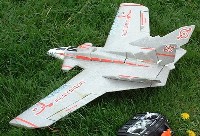 Left is a friend Ailienator, fast and well overpowered with a brushless motor and lipoly batteries. great fun to fly once you are used to the rather odd shape and orientation.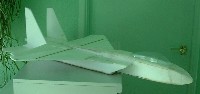 Above is a depron F15, it has a rear mounted pusher brushless motor, flies very well, it is surprisingly manoeuvrable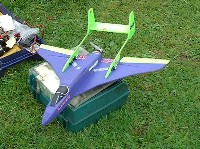 Below is a friends Green air designs tyke jet, powered with a 3900kv brushless motor using a 1300mah 3 cell lipo battery, and an 18A speed controller. Control is via Futaba micro servos and 2.4ghz spectrum radio. It is very fast with with good vertical performance, The excellent finish and colour scheme was achieved with an air brush.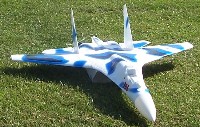 Above a depron sukoi su27 powered by 2 ducted fans and 300 brushed motors, looks nice but doesn't fly that well, the undercarriage was useless and taken off unfortunately this had the side effect of damaging the air intakes on landing which had to be strengthened.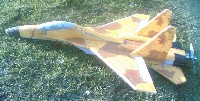 Below is an epp Sokoi su27 which flies far better than the depron version using a 2212/06 brushless motor and 6*4 propellor.