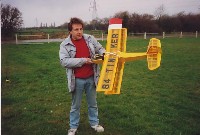 Below is a friends Jabberwock, it was bought as it is and after early problems with a forward c of g now flies very well, powered by a Super Tigre .90. For its next flight it will have a small digital video camera attached to it.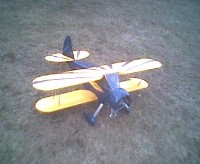 Below is my own design corex biplane. It has 48" span semi symmetrical wings and the tail surfaces were roughly based on a pits special. It requires a .45-53 engine. Construction at the field is easy as the wings go on as a unit sliding over the tail and are banded in place. It is an excellent flyer capable of most aerobatics.
This was my instructor (Dave) with his 3 channel Tinker bi plane which flew very well.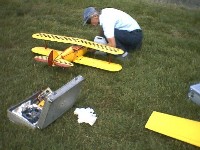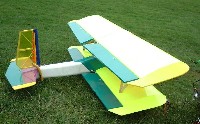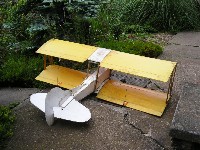 Not sure what the above biplane was but it flew really well, unfortunately the owner as depicted, crashed it not long after i had tested and trimmed it.
Above is a modified couger powered with a webra 50. The bottom wing and tail surfaces appear to be standard couger dimensions the fuselage is slightly modified being a little larger, i suspect the top wing may be off an extreme light or similar larger fun fly type plane. flies very nicely.